Ad blocker interference detected!
Wikia is a free-to-use site that makes money from advertising. We have a modified experience for viewers using ad blockers

Wikia is not accessible if you've made further modifications. Remove the custom ad blocker rule(s) and the page will load as expected.
Orange County was a county in Southern California, bordering Los Angeles County to the northwest and the Pacific Ocean to the southwest. ("Day 4: 6:00am-7:00am")
The Greater Nation militia reportedly purchased automatic weapons at a gun show in Orange County. (Veto Power)
Looking at projections for the California presidential primary, Nicole Palmer told her father Senator David Palmer that he was likely to win the primary even if they lost votes in Orange County. ("Day 1: 4:00am-5:00am")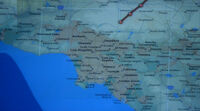 See also San Clemente.
External links
Edit