Ad blocker interference detected!
Wikia is a free-to-use site that makes money from advertising. We have a modified experience for viewers using ad blockers

Wikia is not accessible if you've made further modifications. Remove the custom ad blocker rule(s) and the page will load as expected.
Oregon was a state in the northwestern United States, bordered by the Pacific Ocean to the west, Washington to the north, Idaho to the east, and California and Nevada to the south.
Cities in Oregon included Bend, Medford, Portland, and The Dalles. ("Day 4: 3:00am-4:00am")
The University of Oregon was an educational institution based in the state. ("Day 2: 8:00am-9:00am")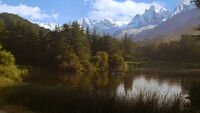 During Day 2, President David Palmer was on vacation in Oregon with his son Keith, staying at the presidential retreat near Lake Oswego. Among other engagements, Palmer was scheduled to meet with the University of Oregon's regents, tour the Nike campus, and make an appearance with Governor Schulman. However, after receiving an urgent message about an imminent terrorist attack, Palmer was forced to cut short his fishing trip and relocate to the Northwest Regional Operations Complex. From there, he handled the terrorist crisis posed by Second Wave and elements in his own government which sought to dictate American policy. ("Day 2: 8:00am-9:00am", "10:00am-11:00am", "8:00pm-9:00pm")

Appearances
Edit