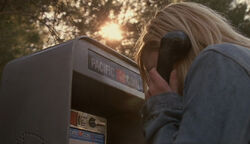 Pacific Coin was a telecommunications company.
Kim Bauer used a Pacific Coin payphone in Griffith Park to call Tony Almeida after getting separated from Teri. Not trusting Tony, she refused to tell him where she was, and instead called Rick Allen to get his help finding out where Teri had gone. ("Day 1: 4:00pm-5:00pm")
During Day 2, Kim used a Pacific Coin payphone in front of St. Virgil's Hospital to call her father Jack at CTU Los Angeles, who warned her that there might be a nuclear attack on Los Angeles and told her to go to her Aunt Carol's house. ("Day 2: 12:00pm-1:00pm")
During Day 3, Stephen Saunders ordered Tony Almeida to go to a Pacific Coin payphone on the corner of Taylor and Vine at 10:15am in order to receive instructions on where to exchange his daughter Jane for Tony's wife Michelle Dessler. Tony and Jack Bauer were present for the call, and the two negotiated a hostage exchange at the 6th Street Bridge. ("Day 3: 10:00am-11:00am")
Ad blocker interference detected!
Wikia is a free-to-use site that makes money from advertising. We have a modified experience for viewers using ad blockers

Wikia is not accessible if you've made further modifications. Remove the custom ad blocker rule(s) and the page will load as expected.