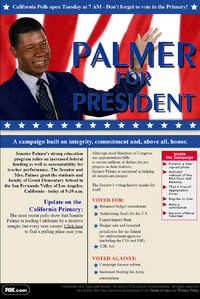 Palmer Campaign was a section of the official 24 website during the airing of season 1. It is an in-universe representation of Senator David Palmer's campaign website, around the time of the California primary featured in the series.
Contents
Edit
California Polls open Tuesday at 7 AM - Don't forget to vote in the Primary!
PALMER FOR PRESIDENT
A campaign built on integrity, commitment, and, above all, honor.
Senator Palmer's strong education program relies on increased federal funding as well as accountability for teacher performance. The Senator and Mrs. Palmer greet the students and faculty of Grant Elementary School in the San Fernando Valley of Los Angeles, California - today at 9:30 a.m.
Update on the California Primary: The most recent polls show that Senator Palmer is leading California by a decisive margin, but every vote counts! Click here to find a polling place near you.
Inside the Campaign
Receive a free-signed photo
Archived webcast of the MRK Town Hall Meeting.
Register to vote
Make a contribution
Become a Palmer Volunteer
Although most Members of Congress use appropriations bills to secure millions of dollars for pet projects in their districts, Senator Palmer is interested in helping all Americans prosper.
The Senator's voting history speaks for itself:
VOTED FOR

Balanced budget amendment
Authorizing funds for U.S. Export-Import Bank
Budget cuts and lessened jurisdiction for the federal law enforcement agencies (including the CIA and FBI)

VOTED AGAINST

Campaign finance reform
Increased funding for Army construction
Background information and notes
Edit
Appearances
Edit
Characters
Locations
Organizations
Titles
Objects
Events
External links
Edit
Ad blocker interference detected!
Wikia is a free-to-use site that makes money from advertising. We have a modified experience for viewers using ad blockers

Wikia is not accessible if you've made further modifications. Remove the custom ad blocker rule(s) and the page will load as expected.