Philip J. Martin
Behind the scenes outside the CTU set
Born:
October 15, 1970
Baltimore, Maryland, USA
Died:
November 10, 2011
Jacksonville, Florida, USA
Role:
CTU worker
Philip J. Martin (October 15, 1970 – November 10, 2011; age 41) is an actor who portrayed a CTU worker during Season 2 of 24. He appeared in the first few episodes, and after the bomb blast his character walked past Michelle Dessler at the beginning of Day 2: 11:00am-12:00pm with an injured arm.
Martin died aged 41 in a car crash on November 10, 2011 in Jacksonville, Florida. [1]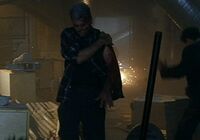 24 credits Edit
Selected filmography
Edit
Brood (2009)
Deadlands 2: Trapped (2008)
Deadlands: The Rising (2006)
Seabiscuit (2003)
Intolerable Cruelty (2003)
Television appearances
Burn Notice (2007)
My First Time (2003)
CSI: Miami (2002)
JAG (1995, 2002)
Daring Capers (2001)
References
Edit
External links
Edit