Rosine "Ace" Hatem
Behind the scenes as CTU worker, 2nd from right
Birthdate:
August 5, 1960
Birthplace:
Methuen, Massachusetts, USA
Role:
1. CTU worker
2. Paula Schaeffer (stunt double)
Rosine "Ace" Hatem is a stunt performer and actress who had two roles in Season 2 of 24: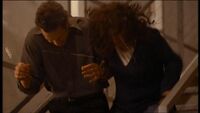 24 credits Edit
CTU worker
Paula Schaeffer
Selected filmography
Edit
Wanderlust (2012)
Iron Man (2008)
Live Free or Die Hard (2007)
When a Stranger Calls (2006)
Million Dollar Baby (2004)
Spider-Man 2 (2004)
Minority Report (2002)
Spider-Man (2002)
Three Kings (1999)
The Siege (1998)
Blade (1998)
Fire Down Below (1997)
Star Trek: First Contact (1996)
Sudden Death (1995)
Point Break (1991)
Big Business (1988)
Television appearances
Blue Bloods (2015)
Terminator: The Sarah Connor Chronicles (2009)
Star Trek: The Next Generation (1992)
External links
Edit
Ad blocker interference detected!
Wikia is a free-to-use site that makes money from advertising. We have a modified experience for viewers using ad blockers

Wikia is not accessible if you've made further modifications. Remove the custom ad blocker rule(s) and the page will load as expected.