Rosine "Ace" Hatem
Behind the scenes as CTU worker, 2nd from right
Birthdate:
August 5, 1960
Birthplace:
Methuen, Massachusetts, USA
Role:
1. CTU worker
2. Paula Schaeffer (stunt double)
Rosine "Ace" Hatem is a stunt performer and actress who had two roles in Season 2 of 24.
Biography and career
Edit
Hatem was born in Methuen, Massachusetts. In 1978, she attended Dean Junior College in Franklin, Massachusetts.
Hatem started her career as an actress in 1987, with a brief role on the film Party Favors. However, she quickly moved to a career as a stunt performer. As such, she has worked on films like Beverly Hills Cop III, Liar Liar, Minority Report, and Iron Man, among many others.
Role on 24 Edit
Hatem had two roles in Season 2 of 24: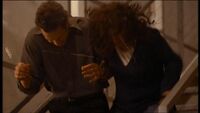 24 credits Edit
CTU worker
Paula Schaeffer
Selected filmography
Edit
Ghostbusters (2016)
Wanderlust (2012)
Iron Man (2008)
Live Free or Die Hard (2007)
When a Stranger Calls (2006)
Million Dollar Baby (2004)
Spider-Man 2 (2004)
Minority Report (2002)
Spider-Man (2002)
Three Kings (1999)
The Siege (1998)
Blade (1998)
Fire Down Below (1997)
Star Trek: First Contact (1996)
Sudden Death (1995)
Point Break (1991)
Big Business (1988)
Television appearances
Blue Bloods (2015)
Terminator: The Sarah Connor Chronicles (2009)
Star Trek: The Next Generation (1992)
External links
Edit