Ad blocker interference detected!
Wikia is a free-to-use site that makes money from advertising. We have a modified experience for viewers using ad blockers

Wikia is not accessible if you've made further modifications. Remove the custom ad blocker rule(s) and the page will load as expected.

Sara Kaufman was the sister of Adam Kaufman.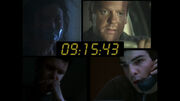 Sara was infected with the Cordilla virus during the outbreak caused by Marcus Alvers during Day 3. This caused considerable distress for Adam, who put his duties aside and eventually contacted her. By 9:15am, Sara was speaking with her brother, and she was deeply distraught and frightened. She mentioned that she had been offered a suicide capsule by the agents present with her. Their conversation was interrupted by Chloe O'Brian, who got him focused back onto his work, so Sara ended the call with a worried farewell.
Live appearances
Edit
Season 3
| | | | | | |
| --- | --- | --- | --- | --- | --- |
| "1:00pm-2:00pm" | "2:00pm-3:00pm" | "3:00pm-4:00pm" | "4:00pm-5:00pm" | "5:00pm-6:00pm" | "6:00pm-7:00pm" |
| "7:00pm-8:00pm" | "8:00pm-9:00pm" | "9:00pm-10:00pm" | "10:00pm-11:00pm" | "11:00pm-12:00am" | "12:00am-1:00am" |
| "1:00am-2:00am" | "2:00am-3:00am" | "3:00am-4:00am" | "4:00am-5:00am" | "5:00am-6:00am" | "6:00am-7:00am" |
| "7:00am-8:00am" | "8:00am-9:00am" | "9:00am-10:00am" * | "10:00am-11:00am" | "11:00am-12:00pm" | "12:00pm-1:00pm" |
* —
Voice only