This article is about the wildlife sanctuary. For the underground prison within, see Saugus detention center. For the power grid sector, see 26-GG.
"Great, we're going to a Sierra Club meeting."
The Saugus Wildlife Preserve was a designated 9.95-acre wildlife preserve located in Saugus, California, at the street address 21911 Kipling Avenue. The park was a cover to hide a top-secret Department of Defense Class-3 detention center for high-value prisoners.
Establishment
Edit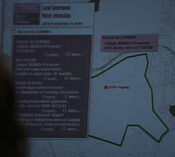 The property on which the preserve was built was originally home to one of the Strategic Air Command's Nike antiaircraft missile bunkers, constructed during the 1950s and 60s at the height of the Cold War. When these sites were decommissioned, twenty-seven of them around the country - including in Saugus were converted into holding facilities for the Captivity Management Program's Mobile Underground Detention and Detainment system. (Findings at CTU)
Officially, the Nike site was purchased by the Fish and Game Department and repurposed as the Saugus Wildlife Preserve. Despite its official purpose, the preserve was largely arid, with no water to support insects or other animals. The property had an exterior power transformer that was regularly maintained. A helicopter patrol made regular flyovers to guard against intruders. ("Day 1: 6:00pm-7:00pm")
Day 1: Discovery
Edit
Victor Drazen was scheduled to be moved to the Saugus detention center at 7:20pm on Day 1, as noted in the NSA's official file. Alexis Drazen bribed an employee at Pacific Electric, Alan Morgan, to disable the power for the preserve's grid sector - 26-GG - at exactly that time. After learning of this arrangement and learning from Senator David Palmer that the preserve's address was in the missing NSA file on Drazen, Jack Bauer went to the wildlife preserve with George Mason. There appeared to be nothing of interest on the property, although they found the prison's power transformer and noticed that there wasn't any wildlife to speak of. ("Day 1: 6:00pm-7:00pm")
Eventually, George grew frustrated, saying that they had been fed false information about the location, and left on his own to return to CTU Los Angeles. Minutes later, Jack found the stairwell to leading the prison's entrance, where he was attacked and taken inside by some of the prison's guards. Despite Jack's best efforts, Andre Drazen and his crew eventually attacked the facility and rescued Victor Drazen, killing the warden and the other staff. ("Day 1: 7:00pm-8:00pm", "8:00pm-9:00pm")
CTU Los Angeles then sent field units to the location, headed by agent Drake. They set up perimeters at 1, 3 and 5 mile radii from the prison, and then entered to investigate. As they discovered that there was no-one left in the building, the Drazens escaped with Bauer in 2 vans. ("8:00pm-9:00pm")

Appearances
Edit
Season 1
| | | | | | |
| --- | --- | --- | --- | --- | --- |
| "12:00am-1:00am" | "1:00am-2:00am" | "2:00am-3:00am" | "3:00am-4:00am" | "4:00am-5:00am" | "5:00am-6:00am" |
| "6:00am-7:00am" | "7:00am-8:00am" | "8:00am-9:00am" | "9:00am-10:00am" | "10:00am-11:00am" | "11:00am-12:00pm" |
| "12:00pm-1:00pm" | "1:00pm-2:00pm" | "2:00pm-3:00pm" | "3:00pm-4:00pm" | "4:00pm-5:00pm" | "5:00pm-6:00pm" |
| "6:00pm-7:00pm" | "7:00pm-8:00pm" | "8:00pm-9:00pm" | "9:00pm-10:00pm" | "10:00pm-11:00pm" | "11:00pm-12:00am" |