This article lists all the real-life shooting locations for the first season of the Indian version of 24. A scene shot "on location" refers to any filming that took place outside of the main studio set.
This season was filmed entirely in the Mumbai area. For other seasons, see filming locations on 24.
12:00am-1:00am
Edit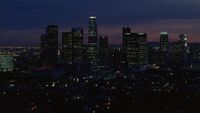 The opening shot of Thailand actually shows the skyline of Downtown Los Angeles in America, where the original series was shot.
When Jai is driving to the ATU and speaking to Wassim Khan, he drives across the Bandra–Worli Sea Link.
The scenes at Aditya Singhania's hotel were shot at the Renaissance Mumbai Convention Centre Hotel in Powai.
1:00am-2:00am
Edit
Lido Cinema
Edit
The scenes at the Lido Cinema were actually shot at the closed Capitol Cinema opposite the CST in the Fort district of Mumbai.
Ad blocker interference detected!
Wikia is a free-to-use site that makes money from advertising. We have a modified experience for viewers using ad blockers

Wikia is not accessible if you've made further modifications. Remove the custom ad blocker rule(s) and the page will load as expected.