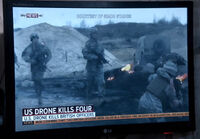 Sky News is a 24-hour news channel in the United Kingdom. It airs non-stop rolling news, weather and sports updates around the clock.
During Day 9, Sky News HD aired footage from Simon Staines of the aftermath of Derrick Yates' drone attack in Afghanistan. Simone watched the report as Yates finished work on the drone override he had used to carry out the strike. ("Day 9: 12:00pm-1:00pm")
Behind the scenes
Edit
Sky News is a real channel in the UK, a sister channel to Sky 1, which has aired 24 since Day 3.
External links
Edit
Ad blocker interference detected!
Wikia is a free-to-use site that makes money from advertising. We have a modified experience for viewers using ad blockers

Wikia is not accessible if you've made further modifications. Remove the custom ad blocker rule(s) and the page will load as expected.