Ad blocker interference detected!
Wikia is a free-to-use site that makes money from advertising. We have a modified experience for viewers using ad blockers

Wikia is not accessible if you've made further modifications. Remove the custom ad blocker rule(s) and the page will load as expected.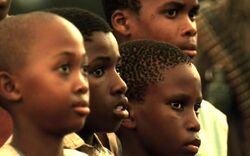 Soccer, also called football, was a sport played between two teams of players. The object of the game is to score by kicking a ball into the opposing goal.
During Redemption, some kids were playing soccer in Sangala when they were interrupted by Youssou Dubaku and his who were "recruiting" people for the People's Freedom Army. (24: Redemption)
Prescott O'Brian, son of Morris and Chloe, was in a soccer team. Prescott and Morris were killed in a hit-and-run accident when they were on their way home from soccer practice. ("Day 9: 1:00pm-2:00pm")
External links
Edit