Solarz was a CTU Los Angeles field agent active during Day 4.
Agent Solarz went with Tony Almeida and Jack Bauer to investigate a tip given to them by Dina Araz, which turned out to be an abandoned meeting house for one of Habib Marwan's terrorist cells.
In the next hour, he went with a full tactical team on a mission to capture Marwan. When it was revealed that Marwan had escaped using a dead CTU agent's gear, Solarz realized his partner was Marwan in disguise. He tried to put up a fight, but Marwan shot Solarz three times under his bullet-proof vest at point-blank range, seconds before 6:00PM.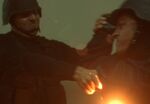 Live appearances
Edit
Season 4
Prequel

"7:00am-8:00am"

"8:00am-9:00am"

"9:00am-10:00am"

"10:00am-11:00am"

"11:00am-12:00pm"

"12:00pm-1:00pm"

"1:00pm-2:00pm"

"2:00pm-3:00pm"

"3:00pm-4:00pm"

"4:00pm-5:00pm"
"5:00pm-6:00pm"

"6:00pm-7:00pm"

"7:00pm-8:00pm"

"8:00pm-9:00pm"

"9:00pm-10:00pm"

"10:00pm-11:00pm"

"11:00pm-12:00am"

"12:00am-1:00am"

"1:00am-2:00am"

"2:00am-3:00am"

"3:00am-4:00am"

"4:00am-5:00am"

"5:00am-6:00am"

"6:00am-7:00am"
Ad blocker interference detected!
Wikia is a free-to-use site that makes money from advertising. We have a modified experience for viewers using ad blockers

Wikia is not accessible if you've made further modifications. Remove the custom ad blocker rule(s) and the page will load as expected.