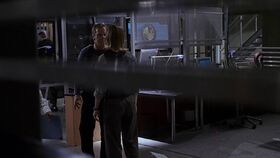 You may be looking for Section 7.
Station 7 was a workstation on the main floor of the CTU Los Angeles building. It was located behind CTU Chief of Staff's workstation, near the stairs up to the Field ops office.
Shortly after 6am on Day 3, Chloe O'Brian took a call from David Palmer at Station 7. Palmer asked to speak to Jack Bauer, who took the call at the workstation and found out that Stephen Saunders was demanding the death of Ryan Chappelle. ("Day 3: 6:00am-7:00am")
Ad blocker interference detected!
Wikia is a free-to-use site that makes money from advertising. We have a modified experience for viewers using ad blockers

Wikia is not accessible if you've made further modifications. Remove the custom ad blocker rule(s) and the page will load as expected.