Ad blocker interference detected!
Wikia is a free-to-use site that makes money from advertising. We have a modified experience for viewers using ad blockers

Wikia is not accessible if you've made further modifications. Remove the custom ad blocker rule(s) and the page will load as expected.
Stefan Kapicic (born December 1, 1978; age 38) played a Red Square spotter during Season 8 of 24.
Biography and career
Edit
Stefan Kapicic was born in Cologne, Germany to actress Slobodanka Zugic and Dragan Kapicic, ex-Yugoslav basketball player. Stefan studied acting at the Faculty of Dramatic Arts in Belgrade, and he speaks Serbian and English.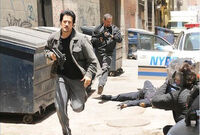 Starting his professional acting career in 2002, Kapicic has appeared mostly in Croatian shows like Obicni ljudi, Larin izbor, and Zora dubrovacka. However, he has also appeared in American shows like The Unit (with Dennis Haysbert, Max Martini, and Michael Irby), Numb3rs (with Navi Rawat and Peter MacNicol), and The Event (with Ian Anthony Dale, Bill Smitrovich, Zeljko Ivanek, and Ned Vaughn).
Kapicic has also appeared in films like One Shot, Big Miracle, and The Brothers Bloom.
24 credits Edit
Selected filmography
Edit
Deadpool (2016)
One Shot (2013)
Larin izbor: Izgubljeni princ (2012)
Big Miracle (2012)
The Brothers Bloom (2008)
Carlston za Ognjenku (2008)
Television appearances
Prvaci sveta (2016)
Zora dubrovacka (2013-2014)
Larin izbor (2011-2012)
Numb3rs (2008)
The Unit (2008)
Vratice se rode (2008)
Obicni ljudi (2006-2007)
External links
Edit