You may be looking for another Stone.
Stone was an FBI agent based in Washington, D.C. during Day 7.
Stone was part of the 25-agent team—led by Renee Walker and Park—which raided the abandoned building at 1297 Rincon to capture the escaped Robert Galvez. The agents had actually been lured into the building by Galvez, who was posing over the radio as the murdered agent Stoller. Stone was inside the building when it was gutted by Galvez's C4 explosions at about 2:47am. ("Day 2: 2:00am-3:00am")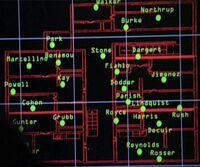 Ad blocker interference detected!
Wikia is a free-to-use site that makes money from advertising. We have a modified experience for viewers using ad blockers

Wikia is not accessible if you've made further modifications. Remove the custom ad blocker rule(s) and the page will load as expected.