This is a list of characters who were antagonists in 24: The Game. The main antagonists were Max and Peter Madsen, who started a chain of attacks on the United States, with the ultimate goal being to steal nuclear weapons and sell them to Middle East terrorist groups.
Max terror cell
Edit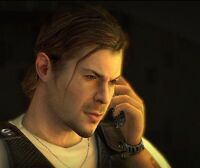 Max: German arms dealer who was responsible for the events of Day 2 and also masterminded the events of The Game; shot by Jack Bauer
Peter Madsen: high-ranking mercenary-terrorist and employed by Max; killed in explosion caused by Jack Bauer
Joseph Sin-Chung: second-in-command to Madsen; impostered Lee Jin Yu in a successful gambit to attack CTU

Eddie Cain: performed a diversionary chemical weapons attack
Sonny: Sin-Chung henchman
Virgil: henchman hired by Sin-Chung

Governor James Radford: a conspirator working with Max
Mandy: a mercenary working with Max who took out Radford and escaped
Miscellaneous
Edit
Lee Jin Yu: a man who was killed in advance of the plot, prior to The Game, to prepare for the attack on CTU
Ad blocker interference detected!
Wikia is a free-to-use site that makes money from advertising. We have a modified experience for viewers using ad blockers

Wikia is not accessible if you've made further modifications. Remove the custom ad blocker rule(s) and the page will load as expected.