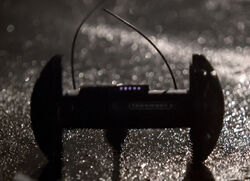 The Throwbot XT was a remote-operated sensor robot designed for use by law enforcement organizations.
During Day 9, CIA agent Nash used a Throwbot XT to surveil the Chatham and Dominion factory in southeast London. After Nash verified that Jack Bauer was inside, Erik Ritter signaled his men to raid the building. ("Day 9: 11:00am-12:00pm")
External links
Edit
Ad blocker interference detected!
Wikia is a free-to-use site that makes money from advertising. We have a modified experience for viewers using ad blockers

Wikia is not accessible if you've made further modifications. Remove the custom ad blocker rule(s) and the page will load as expected.