This article or section is incomplete.

This page has been identified as needing attention. It does not currently meet the standards of quality set by the Wiki 24 community because it is missing important information. Please edit this page to expand it, or visit the article's talk page to discuss proposed additions.
Operation Hell GateEdit
Veto PowerEdit
Trojan HorseEdit
Cat's ClawEdit
Vanishing PointEdit
Chaos TheoryEdit
Day Zero Edit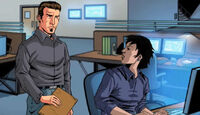 Tony was working at CTU Los Angeles during the events of Day Zero, in which he expressed his distrust for her and Jack, claiming that they were in a relationship. After Nina denied his claims, he left and went back to his workstation.
He later went to CTU's parking lot after Devin was killed and watched the interaction between Nina and Jack, believing it was evidence that they were together.
Ad blocker interference detected!
Wikia is a free-to-use site that makes money from advertising. We have a modified experience for viewers using ad blockers

Wikia is not accessible if you've made further modifications. Remove the custom ad blocker rule(s) and the page will load as expected.