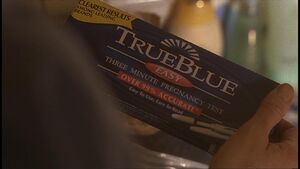 TrueBlue was a brand of pregnancy test that Teri Bauer took during Day 1.
At around 1:56pm, Dr. Kent gave Teri Bauer the pregnancy test after Teri informed her that she had been raped by Eli Stram during her kidnapping and had felt stomach pains since then. At 2:16pm, Teri took the test at the safe house, and discovered that she was pregnant.
Just before 11:00pm that night, she informed her husband Jack that was pregnant with his child.
Background information and notes
Edit
The test took three minutes, and was over 99% accurate. It claimed to give the clearest results among leading brands.
Ad blocker interference detected!
Wikia is a free-to-use site that makes money from advertising. We have a modified experience for viewers using ad blockers

Wikia is not accessible if you've made further modifications. Remove the custom ad blocker rule(s) and the page will load as expected.