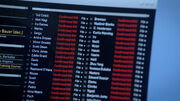 Useful Company was responsible for the computer displays seen in 24: Live Another Day. They have also done digital playback, technical support, video equipment assist, computer visual effects and graphics design for various movies. They are based in Longcross Studios, in Surrey, where the 24 production crew filmed the scene of Chloe O'Brian escaping from Cheng Zhi's truck. The creative director of the company is Simon Staines.
Their list of credits include: Hackers, the first three James Bond films starring Pierce Brosnon, Spy Game, Blade II, the Jason Bourne movies, Batman Begins, The Da Vinci Code, Munich, V for Vendetta, Blood Diamond, Children of Men, Hellboy II: The Golden Army and Green Zone.
External links
Edit
Ad blocker interference detected!
Wikia is a free-to-use site that makes money from advertising. We have a modified experience for viewers using ad blockers

Wikia is not accessible if you've made further modifications. Remove the custom ad blocker rule(s) and the page will load as expected.