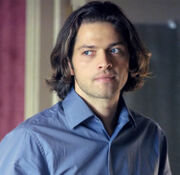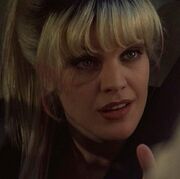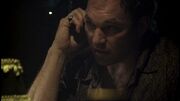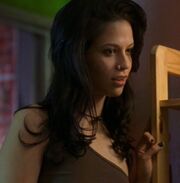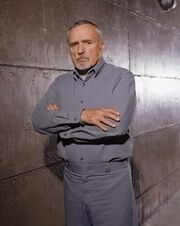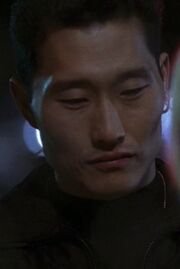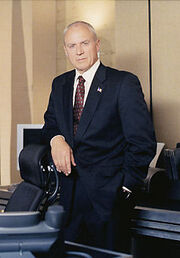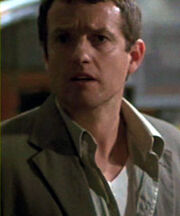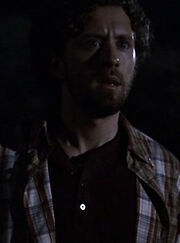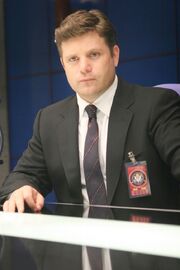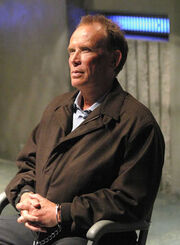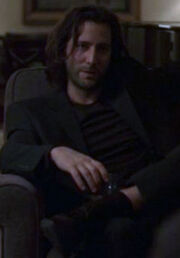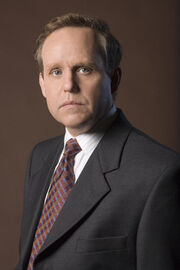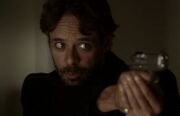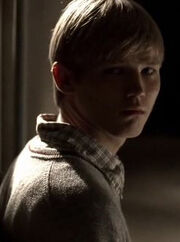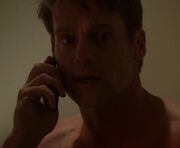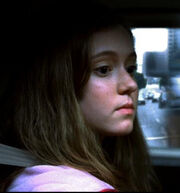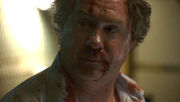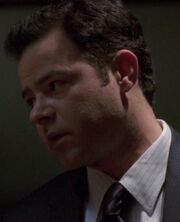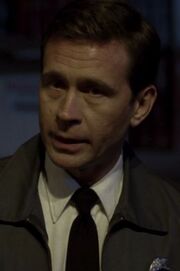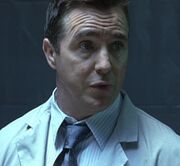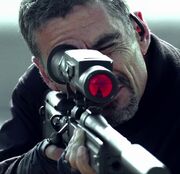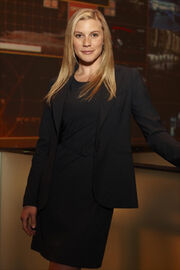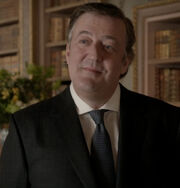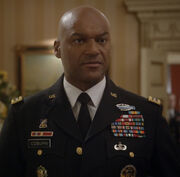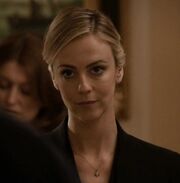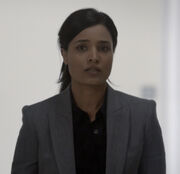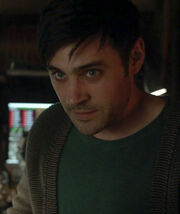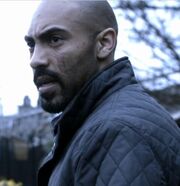 Hello all, my name is Matthew R Dunn, and I am a 24 fan. To your right are images of some of the 24 characters, with names of major characters from other films and TV shows that I know them from. As a sidenote, I am a little bummed to learn that the series is now cancelled, though to be fair, eight seasons is a healthy amount of time for a TV series. And then there's the event series, Live Another Day, which was set and filmed in London. It's nice to see a change of setting.
I mainly contribute to Sci-Fi themed Wikis (Battlestar Galactica, Doctor Who, and most frequently, Stargate). I know that I use my own real name as a user, but I got used to it now, I pretty much use it everywhere. Here are more stuff about me. My middle name, is Robert. I am 23 years old, born in Northampton and currently live in a small village in North Wales, UK.
I have been a fan of the show for a long time. The first episode I remember seeing was Day 2 3:00am-4:00am. I was very confused what happened earlier in the series, but followed on from there. After I saw Day 3 and Day 4 whole, I bought a Season 1-3 DVD collection. I finally got the jist about what day 2 was about, and saw day 1. I like nearly everything about it (except the fact the some of torture scenes were a little excesive).
Favourite season list
Edit
Since I really like 24, I thought I should share what I think about each season. I may sound a little critical in them, but I do like every season. But among them, there are favourites and least favourites;
Day 4: Absolute chaos this one. First, rescue Heller from being excecuted, but that's a diversion, a "Trojan Horse" for melting down every nuclear power station. Then, stop a stealth aircraft from blowing up Air Force One, which failed, to gather the Nuclear football, steal a warhead and fly it to LA, all from mastermind, Imhotep. This is my absolute favourite of the bunch.
Day 5: A web of conspiracy that one, Russians attacking LA with lethal nerve gas (it was supposed to be Moscow, but never mind). They would be released to gain Russia's oil, and the main bad guy was the President, this was excellent, like a rebound of Day 2, but better and more actiony. Then Logan was taken down by his mentally-unstable wife. Never underestimate the power of women. Shame Jack was captured by the Chinese. Also, Julian Sands played the part of Bierko beautifully, one of the best villains ever, though his accent was a bit too Yorkshire for a Russian. 2nd favourite day.
Day 7: I was stunned with the whole Writers Strike and that it has been delayed by a year, but at least Reemption was kind of made in its place for 2008, which I found was pretty imrpessive for a one-off, which was pulled off. Back to day 7, I once saw the promo for day 7, with a Die Hard 4.0-esq plot. I was 110% hyped up about that, and I've seen the first two episodes, which I enjoyed every minute of. I watch every episode out in the UK so far, and liked it better than Day 2, but not Day 5 personally.
Day 8: This day is actually quite good for a last season. I will admit my 24 interest is a bit low now (mostly cause of my newfound love for Britain's answer to 24. Anyhow, back to day 8. The action was cool, as always, ignorant cops, fire axe deaths, big explosion in the first episode, just what 24 is made of. However, my favourite parts were the scenes between Jack and Teri, which I find adorable. Also, seems nice to have it set in another city again (just proves LA isn't the only place on Earth). And lets not forget, Chloe is funny again (the way she doesn't know how some of the new futuristic stuff works). However, out of all the main character deaths that happened in the series are a bit of a shock, Renee's death kind of pissed me off.
Day 2: A bomb plans to be detonated over Los Angeles, so that Palmer can declare war against the Middle East. But it is actually a plot from Peter Kingsley, who wants the war because his oil pipelines go through those areas, to increase the price of transport. So millions would die, but he would make millions more in his pocket. Greedy and selfish, but that's villainy for you. And a section of the government's trying to stop the bomb from being found, excellent.
Day 6: Started more or less in the middle, the country's being attacked and more about damage control than anything, and stop Abu Fayed, and then Jack's new enemy, the Chinese. But, they picked on the Middle East, a little too much than Day 2 and 4. But at least Dr. Daniel Jackson made an appearance, as a bad guy. This falls into the bottom half of my favourites.
Day 1: Well, it was the beginning. Palmer is threatened with assassination and the bad guys wants to frame Jack for it and his family gets kidnapped because of revenge by the Drazens, as both Jack and Palmer were part of the mission, and because Victor lost his wife and daughter, he plans to kill Jack's wife and daughter. It's an interesting concept.
Day 3: A bio attack against the US, despite the fact that the main bad guy was a Brit, but if it was held in the UK, that would be Spooks' territory. My least favourite, the second day had more action (my opinion), although the helicopter drive-by was pretty cool.
Favourite 24 things
Edit
Favourite characters
Edit
Favourite shootouts
Edit
Collection
Edit
My own 24
Edit
About 2005, I started to write down my own 24, which was a lenghty and hard work. I wrote down two days. They don't follow the regular continuity, but my own day 1 was a carry on from day 4. When I wrote the second day, it follows a whole different universe;
The day starts at 6am. The main storyline is that a group of Russians invade a building in Los Angeles (where else), that is decoding some encrypted file, which the good guys suspect is a code for a terrorist attack in the US. They invade it so the people won't know what they are planning. The main bad guy behind it, was some sort of doppelganger of Jack Bauer, but wasn't him. The man used a mask and that voice chip they use in the Mission: Impossible films. The bad guys plan to frame Jack, who is living under an assumed name in Tijuana, Mexico. CTU calls him in to go out of hiding to work on finding who the real culprit is, but has to stay low profile to avoid the Chinese.
In the process of finding the culprit, a copy of the encryption was kept, and discovered what the plan was, to detonate a neutron bomb in a major city. Kim was there, Chase was there, helping Jack, and the president was not Logan, or anybody we know. CTU gets attacked by the Russians and kidnapped Chloe, but were stopped. They discover the target city was Vancouver, but that was a decoy, then it was Miami, but they failed by the Florida CTU branch, plus the bomb was fake. Kim is in trouble, AGAIN, for knowing the existence of Jack. The man bad guy has a son, who has a girlfriend. Also the mother is a KGB agent assigned to stop her husband. The family are the Rusedskis (kind of named after Greg Rusedski, the retired Canadian/British Tennis player) However, the main villain is flying in from Moscow to LA to plan the next attack, in LA. And oh yeah, since I'm not FOX, I get to kill the president, but gets a nice funeral. Mandy also made an appearance, but gets killed. Bad Rusedski gets killed in the final hours by his wife with a bomb. The main bad guy is killed, the bombing is stopped, David Palmer steps in and pardons Kim, the Chinese forgive Jack (somehow) and the Rusedski son proposes to his girlfriend, all is well.
While most of the day takes place in and around Los Angeles, parts were set in Camp David, Vancouver, Miami and Moscow.
About 18 months since my day 5, my day 6 starts at 12pm. Jack is part of a CTU tactical team to stop a new terror threat, but this time the bad guys are IRA. They plan to make some sort of attack, they release a prisoner on a plane, and parachute out before an air collision. Also, a group hijacks a cruise ship towards LA and holds everyone hostage. Jack has to rescue them, gets a swim and stops them before the ship sinks and stopped all but about a hundred from drowning. The main bad guys are the MacKealty brothers, IRA mercenaries. One of their wives is also in on it.
One of the CTU members gets kidnapped and taken to Lake Tahoe. A group ambushes the White House, but Aaron Pierce succeeds in stopping them (good old Pierce). Also, the bad guys steal a set of programming chips, which could wreak all sorts of havok. They succeeded in blacking out LA, plan to meltdown a Nuclear reactor, which failed, blow up Hoover Dam to flood places, which also failed, and hacked into CTU files to make the foreign offices vulnerable, which partly succeeded. However, the IRA are actually taking orders from a group of Germans, who kidnap the president's daughter. She eventually gets rescued. However, the plan to make the MacKealties a reliability and kills them. The main villain's wife flees for her life and captures Audrey Raines to get Jack to help her. Jack gets shot in the head, but is still alive. However, after rescueing Audrey and killing the main bad guys, he collapses and has surgery. That day ended in a cliffhanger, as the bad guys were taking orders from some shadowy figure (like Max) and they plan their next move.
Parts were set in Belfast, London, the Pacific Ocean (50-60 odd miles of the LA coast), Lake Tahoe, Washington D.C., Las Vegas and Denver.
Keifer Sutherland interview in Friday Night with Jonathan Ross
Edit
In 16 April 2010, Keifer Sutherland was interviewed by Jonathan Ross in his BBC talk show. Here are some of the highlights from what I remember;
24 Dreams
Edit
I have done the same thing on Stargate, Battlestar and TARDIS wikis. Here are the 24-based dreams I have been getting;
I may have missed some, I'll add more later, when I get more of them.
Contributions
Edit
My edit count;665 and counting
I mainly go and correct stuff, but often taken part in expanding the wiki as well. This is a list of my biggest contributions;
New pages
Edit
Written episode guides
Edit
I have also been given one of Blue Rook's dead-on barnstar awards, which I'm happy to receive.
Other wikis you can find me in
Edit