Spoiler Warning!
This section or page contains pre-release information
regarding 24: Legacy and thus may contain spoilers.
Veronica Cartwright
Born:
April 20, 1949
Bristol, England, UK
Role:
Margaret Donovan
Veronica A. Cartwright (born April 20, 1949; age 67) is an English-born American actress who is set to portray Margaret Donovan, the mother of Senator John Donovan, in 24: Legacy. Her casting was announced on October 5, 2016.
Biography
Edit
Cartwright was born in Bristol, England and grew up in Los Angeles, when she emigrated to the United States after the birth of her younger sister, child actress Angela Cartwright. As a child actress, she appeared in a semi-regular role in Leave It to Beaver (1959-60) and also guest starred in episodes of One Step Beyond (1960) and The Twilight Zone (1962), among others. Cartwright later starred as Rosalie Wells in The Children's Hour (1961) and as Cathy Brenner in Alfred Hitchcock's The Birds (1963), and played daughter Jemima Boone in the first two seasons of Daniel Boone (1964-65).
Cartwright is perhaps best known for her roles in the 1978 original version of Invasion of the Body Snatchers, opposite Jeff Goldblum and Donald Sutherland, and as navigator Joan Lambert in Alien (1979), a role she reprised in the DLC episodes of the video game Alien: Isolation (2014). She was originally cast in the lead role of Ellen Ripley, but director Ridley Scott recast the part with Sigourney Weaver shortly before filming.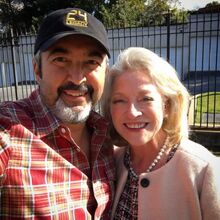 Cartwright's later television roles include appearances in ER (with Eriq La Salle and Harry Lennix), The X-Files, The Closer (with Raymond Cruz and John Prosky), Law & Order: Special Victims Unit (with Tamara Tunie and Tina Holmes), Resurrection (with Kurtwood Smith), Bosch (with Annie Wersching, Scott Klace, Mark Derwin and Mary Page Keller) and Criminal Minds (with Aisha Tyler).
Cartwright was married to actor Richard Gates from 1968 to 1972 and to Stanley Hyman Goldstein from 1976 to 1980. From 1982, she was married to director Richard Compton until his death in 2007. They had one son, Dakota Compton.
24 credits Edit
Selected filmography
Edit
The Invasion (2007)
Kinsey (2004)
Scary Movie 2 (2001)
The Witches of Eastwick (1987)
Wisdom (1986)
Flight of the Navigator (1985)
The Right Stuff (1983)
Alien (1979)
Invasion of the Body Snatchers (1978)
Television appearances
Criminal Minds (2016)
CSI: Cyber (2015)
Bosch (2015)
Resurrection (2014)
Grey's Anatomy (2013)
Law & Order: Special Victim Unit (2005)
The Closer (2005)
The X-Files (1998-99)
ER (1997)
L.A. Law (1989-92)
Miami Vice (1987)
Mod Squad (1969)
Dragnet 1967 (1969)
Daniel Boone (1964-66)
Video game credits
Fallout 4 (2014)
Alien: Isolation (2014)
External links
Edit
Ad blocker interference detected!
Wikia is a free-to-use site that makes money from advertising. We have a modified experience for viewers using ad blockers

Wikia is not accessible if you've made further modifications. Remove the custom ad blocker rule(s) and the page will load as expected.