Vincent Laresca (born January 21, 1974; age 44) played Hector Salazar during Season 3 of 24.
Biography and career
Edit
Vincent Laresca was born in New York City. He is of Panamanian and Italian descent.
Laresca has had small roles in many different movies and TV shows since 1992. He worked in Hollywood Homicide (with Lou Diamond Phillips), Cop Land (with Janeane Garofalo), Romeo + Juliet, Empire (with Nestor Serrano and Karina Arroyave), The Fast and the Furious: Tokyo Drift (with Brian Goodman), and Basquiat (with Dennis Hopper). He appeared in the television pilots of Tru Calling and Dollhouse (with Harry Lennix).
He has also guest-starred on CSI: Miami and was seen briefly in the 2012 blockbuster The Amazing Spider-Man (with C. Thomas Howell).
24 credits Edit
Selected filmography
Edit
Hot Pursuit (2015)
The Amazing Spider-Man (2012)
Unthinkable (2010)
Lakeview Terrace (2008)
Drillbit Taylor (2008)
The Fast and the Furious: Tokyo Drift (2006)
The Aviator (2004)
Hollywood Homicide (2003)
The Devil's Advocate (1997)
Cop Land (1997)
Romeo + Juliet (1996)
Basquiat (1996)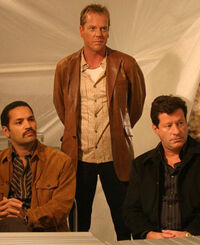 Television appearances
Better Call Saul (2015)
Agents of S.H.I.E.L.D. (2013)
Graceland (2013)
Suits (2011)
The Good Wife (2011)
CSI: NY (2009)
Dollhouse (2009)
CSI: Miami (2006)
Weeds (2005-06)
24 (2003-04)
Tru Calling (2003)
Law & Order (1992; 2004)
External links
Edit