The Washington Daily Chronicle was a print periodical based in Washington, D.C.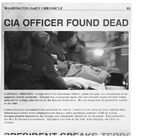 The Chronicle published an article on the suicide of disgraced CIA agent Adam Morgan, who had been indicted for selling information to the Russian government. The group Open Cell posted the article on their website, and suggested that the incident was part of a cover-up. (Open-Cell.org)

Ad blocker interference detected!
Wikia is a free-to-use site that makes money from advertising. We have a modified experience for viewers using ad blockers

Wikia is not accessible if you've made further modifications. Remove the custom ad blocker rule(s) and the page will load as expected.