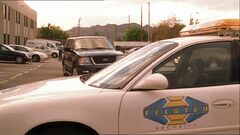 White Oak Boulevard was a street in Los Angeles, California. It passed through Burbank.
Felsted Security's headquarters were located at 357 White Oak Boulevard. Jack Bauer and Audrey Raines went there on Day 4 to identify Henry Powell from security footage. ("Day 4: 1:00pm-2:00pm")
On Day 5, Polakov and Komar arranged a meeting with Jacob Rossler at a parking garage on the corner of White Oak and Madison. ("Day 5: 2:00pm-3:00pm")
Ad blocker interference detected!
Wikia is a free-to-use site that makes money from advertising. We have a modified experience for viewers using ad blockers

Wikia is not accessible if you've made further modifications. Remove the custom ad blocker rule(s) and the page will load as expected.